A couple times a year, the 2Hawk team visits other local wineries so we can taste other wines and experience the range of hospitality available across southern Oregon. It gives us a sense of what's going on in the local industry and shows us other places we can recommend our guests visit.
Cloudy and cool weather greeted us this summer as we started our outing for a day of wine tasting, food, and fun.
Following an 11:00 am rendezvous at the 2Hawk tasting room, our gang jumped onto All Aboard Trolley. First stop on this whisk-away tour was DANCIN Vineyards for an early tasting room opening hosted by owners Dan and Cindy Marca.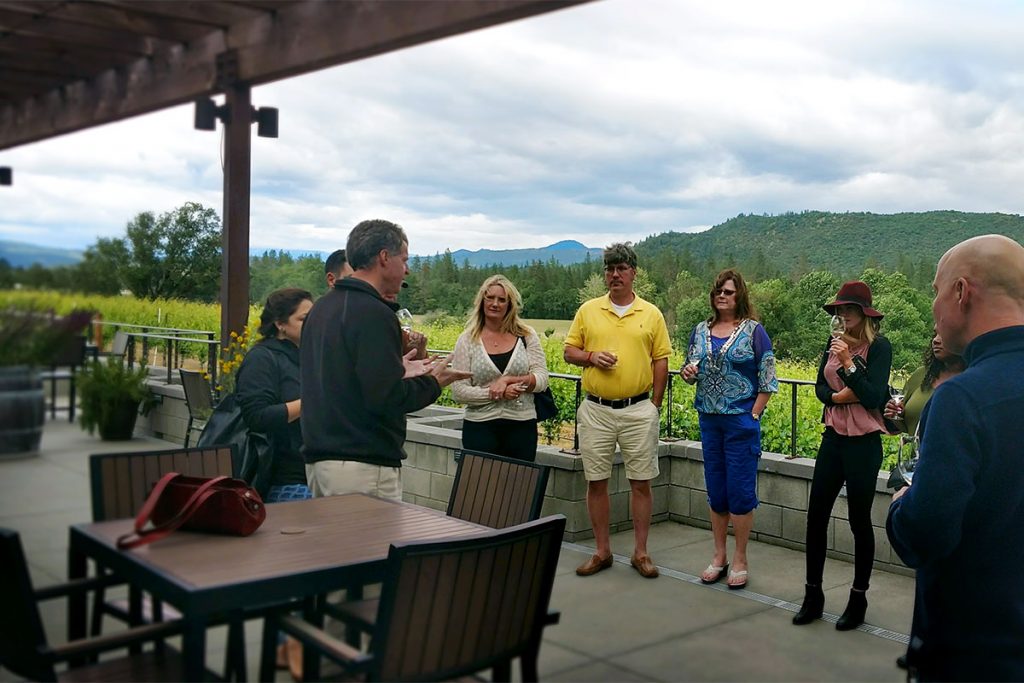 We were treated to special tastings guided by Dan's generous sharing of their beautiful space, fantastic wines, and insights into the hard work that went into building their extraordinary winery.
With a fair number of DANCIN wines loaded onto the trolley, we migrated to the vibrant Medford Commons for lunch. We enjoyed the industrial vibe of Common Block Brewery, where the service was playful and gracious. The food and beverage service couldn't have been better.
We then jumped "all aboard" and headed out on the scenic route for our next stop, Folin Cellars. With halcyon weather and unrivaled views, the journey reminded us of the magic present in this land we call home.
Rob Folin treated us to a spectrum of wonderfully nuanced wines as he graciously shared his time and good sense of humor. We all felt like family and knew we were part of the ancient, connected world of wine and food agriculture.
The last stop on our outing before returning to 2Hawk was Kriselle Cellars. Scott Steingraber and his wife, Krisell, were our hosts. Humble and kind, Scott eloquently shared the story of their place. Krisell joined us after attending to the ever-demanding chores of farm life. Seated at a long table on the south-facing patio, we felt like royalty being hosted by a benevolent king. The breezes, clouds, afternoon sunshine, and brilliant views capped off our day visiting our friends and colleagues. We all wished for more hours in the day to visit more of our extraordinary region.
The evening ended with Ross and Jen Allen warmly sharing their home and a few samples from the amazing 2Hawk cellar. What a blessing it was to spend the day with an amazing team, inspiring leadership, and our partners and colleagues in wine!