With a laser focus on farming, winemaking, and hospitality, the 2Hawk team is on target. They are passionate about growing the highest-quality fruit; hand-crafting wines that express its unique characteristics; and providing a relaxing, comfortable, and welcoming setting to enjoy.

2Hawk is the unlikely story of a visionary farmer from California and a wide-eyed sommelier-turned-winemaker from Florida working together to redefine what Oregon wine can be beyond Pinot noir.
Kiley Evans
Ross & Jen Allen, Owners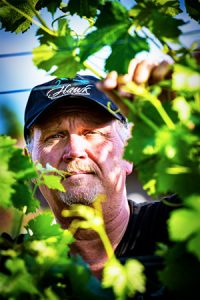 A third-generation farmer, Ross was raised in California's Central Valley. On his family's Fresno County farm, he grew sugar beets, garlic, cotton, and more. Today, Ross has a successful 1,400-acre almond and pistachio farm in Coalinga. He embraces the challenges a vineyard brings, wielding his remarkable knowledge and innovative farming techniques in the vineyard with precision and foresight.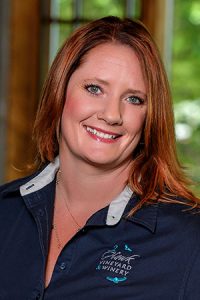 A native of Humboldt County, Jen possesses a strong background in customer service and business operations. Her skills are ideal for overseeing the operation of 2Hawk's tasting room. By building the team and creating a memorable guest experience, Jen strives for every visitor to enter as a welcome guest and leave as a friend.

Ross's success comes from a combination of experience, constant research, and natural intuition. No one in southern Oregon is using the techniques and tools that Ross is—especially related to irrigation and vineyard management.
Jen Allen
Kiley Evans, Winemaker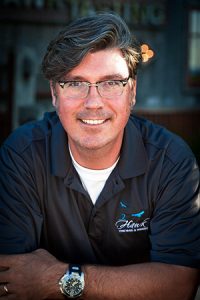 A graduate of the UC Davis Department of Viticulture and Enology, Kiley brings over 15 years of professional winemaking experience to 2Hawk, including tenures at Abacela Winery (Roseburg, OR), Agate Ridge Vineyard (Eagle Point, OR), and Ledger David Cellars (Central Point, OR).
Known for bold, complex reds and elegant, graceful whites, Kiley's winemaking talents have been acclaimed by industry publications and international judges alike. In 2016 alone, 2Hawk garnered 24 awards.
"I love what I do," says Kiley. "From my time as a sommelier, I know great wine requires the right combination of site, variety, climate, and technique. Ross and Jen are incredibly supportive of my desire to experiment and take measured risks in the pursuit of quality. We are doing things many winemakers might question, but so far, the results have been well worth the effort."

---
Ken Bolick, General Manager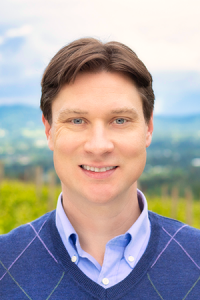 Ken Bolick brings more than 15 years' experience from the wine and hospitality industries, most recently serving as director of consumer sales at Pacific Northwest for Crimson Wine Group (CWG). At CWG, Bolick concurrently led sales operations for Archery Summit (Dayton, OR), Seven Hills Winery (Walla Walla, WA), Double Canyon (West Richland, WA), and The Estates Wine Room (Seattle, WA).
Prior to CWG, Bolick held the position of restaurant manager and wine director at The Allison Inn & Spa's JORY Restaurant in the Willamette Valley, where he built a best-in-class hospitality and wine program. Under his tenure, the 1,000+ label wine list received many accolades, including being named a James Beard Foundation Semi-Finalist for three consecutive years.
A certified sommelier, Bolick also holds an executive MBA from Washington State University and a BA in English language and literature from Grand Valley State University.
I am excited to be a part of 2Hawk Vineyard & Winery and the Southern Oregon wine community. 2Hawk has the makings of a powerhouse, and I am thrilled to be working with Jen, Ross, and Kiley to bring 2Hawk wine to new markets and consumers.
Ken Bolick
Join Our Team
Interested in joining our team? Click below to learn about current job openings:

Join our team