2Hawk Vineyard & Winery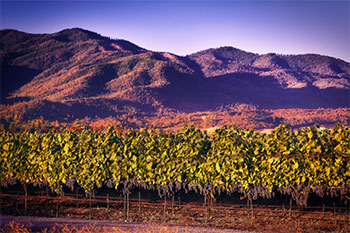 Owners Jen and Ross Allen invite you to share in the bounty of their estate vineyard's distinct terroir. Enjoy handcrafted, award-winning wines and small plates with a gourmet touch in the exceptional tasting room—voted one of the best places to visit in the Rogue Valley. With magnificent views, the grounds offer ample seating, fire pits, and a bocce court. In this relaxed setting, visitors enter as welcome guests and leave as friends.
From Grape to Glass
2Hawk Vineyard & Winery is named after the two hawks that have soared over the estate and the vineyard since its original planting. 2Hawk sits squarely in the middle of the unique microclimate of Southern Oregon. The dry, hot summer days are quickly cooled in the afternoon with a refreshing breeze that might frustrate the golfers at nearby Centennial Golf course, but truly delights the vines on their 30-acre vineyard.

Mission
Our mission at 2Hawk Vineyard & Winery is simple: to be the best we can be. Period. The pursuit of quality guides everything we do in growing fruit, making wine, and providing exceptional guest experiences. Combining over 50 years of experience in agriculture, winemaking, and customer service, Owners Ross and Jen Allen along with Winemaker Kiley Evans have propelled 2Hawk to the forefront of wine quality, site stewardship, and hospitality. This drive for excellence consistently produces wines that earn 90+ points, Gold, Double Gold, and Best in Class distinctions. 2Hawk's production of luxury-class estate wines is focused on Malbec and Viognier with smaller amounts of Tempranillo, Pinot noir, Grenache, Sauvignon blanc, and Chardonnay. Oregon's wine industry is adventurous and filled with exciting opportunities to broaden expectations. 2Hawk Vineyard & Winery is blazing the trail.

The Vineyard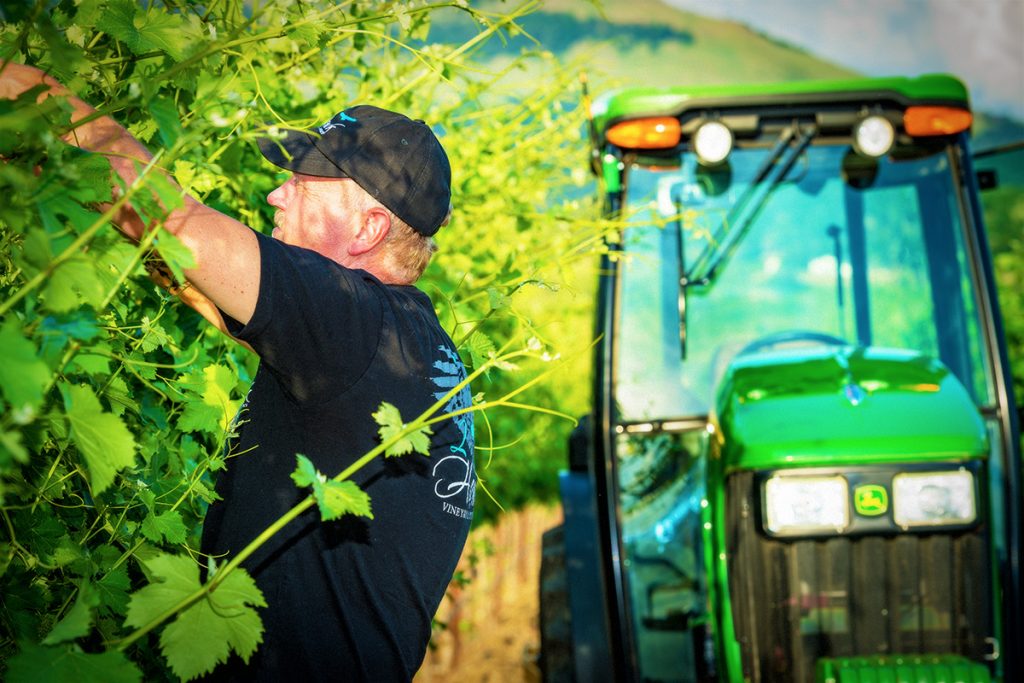 Although part of the Rogue Valley AVA, the 2Hawk estate vineyard lies in an area known locally as the Bear Creek sub-basin, which is the Rogue River's largest tributary. Beneath our vineyard's soils lies a two-layered bedrock consisting of a volcanic layer known as the Roxy Formation and a deeper, softer layer of alluvial sandstone known as the Payne Cliffs Formation. As the Klamath Mountains began to form through uplifting roughly 20 million years ago, our bedrocks began a long erosion process that resulted in our estate vineyard's predominantly volcanic soils, which are unique to the Rogue Valley AVA.
2Hawk is also distinguished by the remnants of an old stream bed running through the middle of our site as evidenced by a large amount of cobbled river rock—especially in the eastern section of the vineyard—and a somewhat sandy streak of significantly younger alluvial deposit particularly noticeable in Blocks 1 and 2. Overall, 2Hawk has some of the oldest soils in the Valley. They are generally characterized as shallow silty to clayey loams that are moderately well-drained with moderate to rapid runoff.
Intelligently attuned to the environment, Jen and Ross Allen bring a sustainable and natural approach to farming. For pest and vermin control, they use resident barn owls, ladybugs, jackrabbits, and their namesake red-tailed hawks. In the spring, you can spot Ross getting off his tractor to move killdeer nests out of harm's way as they like to nest in the rocky soil and feast on vineyard bugs.
With 26 acres currently planted, there is room on-site to expand to 30 total acres of vines. The first block, containing Tempranillo and Viognier, was planted earlier this decade. The second block features Tempranillo, but only every other row was planted initially. The Allens filled in that Tempranillo block in 2014. Existing, poor-quality Chardonnay vines were replanted with Wente and Robert Young clones. Pinot Noir, Malbec, Grenache, Cabernet Sauvignon, Cabernet Franc, Merlot, Sauvignon Blanc, Muscat, and additional Chardonnay were planted in 2015. They planted an additional 3 acres in 2019 that included Syrah and a small amount of petit verdot.
The new plantings allowed the 2016 vintage to be 100-percent estate grown. 2Hawk produced approximately 1,400 cases in 2016. With the increase in fruit produced in the vineyard, production for the 2017 vintage was approximately 3,500 cases.
The new winery is capable of producing 10,000 cases, in balance with what can be grown in the vineyard.
Soils Map
Click here to download a PDF of our Soils Map.
Tradition & Technology
With over three decades of experience in farming, Ross has incorporated systems in the vineyard that are not used in any other southern Oregon vineyard. Blending tradition and technology, Ross teases the very best from his vineyard crop. Anywhere Ross has a cell signal, he can make real-time adjustments to enhance growing conditions. Using a weather station in the middle of the vineyard, Ross monitors soil moisture and tension; temperature; wind speed and direction; humidity; and other key indicators.

Anywhere Ross has a cell signal, he can make real-time adjustments to enhance growing conditions. Using a weather station in the middle of the vineyard, Ross monitors soil moisture and tension, temperature, wind speed and direction, humidity, and other key indicators.
Jen Allen
Winemaking Philosophy
by Kiley Evans, Winemaker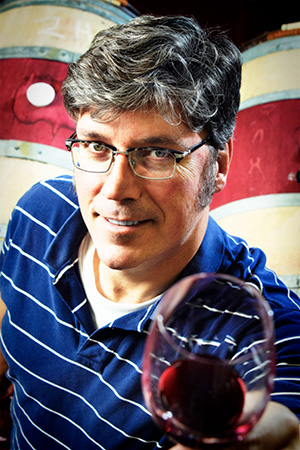 "Wine is made in the vineyard" is one of the most often-heard mantras of winemaking. While true, the inherent complexity of this statement is vastly underestimated. Each of 2Hawk's many different vineyard blocks and grape varieties have their own sets of challenges and considerations. Being ever-concerned with pushing the ripeness and quality envelopes, we continuously experiment to discover what best expresses our site and its special characteristics. To this end, we employ various individually tailored cultural and winemaking practices—some old, some new, some proven, some experimental—to achieve fruit and wine that express the best combination of varietal character, site uniqueness, and vintage personality.
For example, our viticultural practices for Pinot noir are different than those for Malbec even though the two blocks share a common soil type. The same philosophy applies to our two blocks of Tempranillo because even though they are the same variety, the two blocks are planted in vastly different soil types, which require divergent management techniques.
At the end of the day, our wines are balanced, complex, and—above all—delicious when enjoyed alone or with food. As we say at 2Hawk, "Producing Malbec that smells and tastes like Malbec is relatively easy. Producing Malbec that smells and tastes like Malbec grown and produced at 2Hawk is incredibly difficult." This saying motivates us because when daunting challenges are confronted, a struggle ensues that often foretells accomplishment.

The New Winery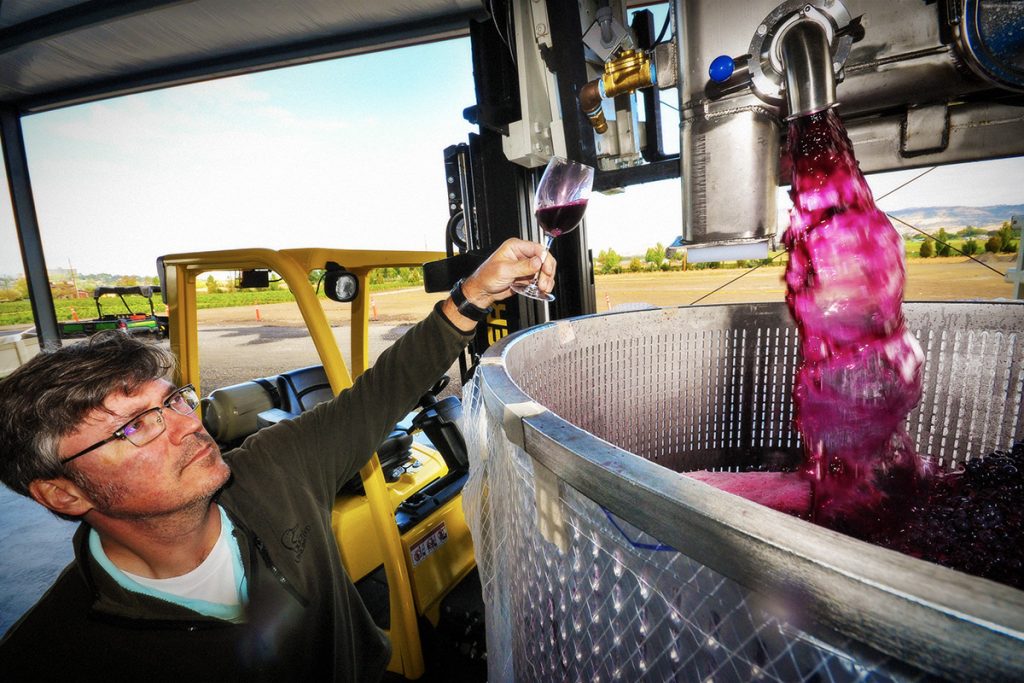 With an intense focus on low-impact production of luxury-quality estate wines, 2Hawk's state-of-the-art winery—designed by Co-Owner Ross Allen and Winemaker Kiley Evans—brings a new level of attention to detail and environmental consciousness to the Rogue Valley. The list of minimal environmental footprint concepts incorporated into the facility includes the Valley's only winery-installed solar array (which supplies virtually all of the winery's power needs), LED lighting throughout, passive ventilation in the dual barrel rooms for both temperature and humidity control, and small batch fermentation lots to minimize temperature control needs.
"The initial 50-kilowatt solar panels will produce 100 percent of the energy needed in the winery. As production expands, it will supply 70 percent of the energy needed," Winemaker Kiley Evans says.
Winemaker Kiley Evans personally handcrafts luxury estate wines using yeast strains isolated from our estate vineyard and oak barrels selected from specific French terroirs that allow our wines to express their unique personalities. Our goal is to produce wines that capture a purity of fruit, possess impeccable balance and velvety textures, and speak of the place in which they are grown and the people who are proud stewards of the land.
2Hawk Vineyard & Winery's new winery was brought online for the 2016 harvest and is now home to 38 barrels of 2016 estate-grown wines.
"The winery gives us greater quality control and personal input so we can really fine-tune the style of wine," Ross notes.
2Hawk houses a cutting-edge laboratory as well as dedicated presses and processing lines for luxury-quality white and red wines and the most innovative destemming technology available. 2Hawk Vineyard & Winery is poised to produce wines unrivaled in depth, complexity, and expression of this place we call home.
Winery Blueprints & Key Details
Click here to download a PDF outlining key details and blueprints for our new winery.
The Darow Series
The 2015 vintage adds the Darow Series, wines that reflect the soils prevalent in 2Hawk's vineyard. "This is a way of giving reverence to our distinct terroir and simultaneously recognizing the differences in wine character we discover," says Kiley. "These extraordinary, age-worthy wines leave an impression of wonder for nature's bounty and appreciation for our stewardship of the land."
9-1-1: Red Blend in Honor of First Responders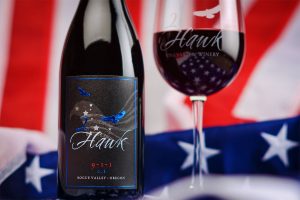 At 2Hawk our work is wine. Wine is romantic, and the audience is receptive. We are fortunate beyond measure but there are many professionals who do not operate under the same circumstances. To those who serve, who run toward danger, who protect us, who do selfless, life-saving work, we honor you through this wine. This is our tribute to your service, sacrifice, integrity, and dedication. A portion of the proceeds of this bottling goes to support our civic protectors, the brother and sisterhoods of law enforcement and fire protection.

It's a dream job. Ross has given me creative discretion in designing the new winery—I'm like a kid in a candy store! There will be things here you won't see anywhere else related to safety, production, and analysis.
Kiley Evans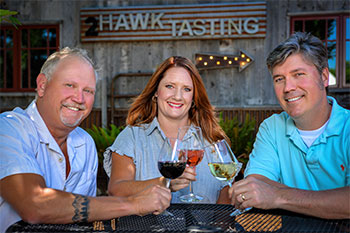 We hope the first things you notice about 2Hawk are the tasting room experience and the quality of our wines. It begins in the vineyard with Ross's farming techniques spanning tradition to technology—all in service of growing exceptional grapes. Magic happens in the brand-new winery, where Kiley uses his expertise to coax the fruit into exemplary wines. Bring this together with Jen's focus on service, and you get casual sophistication. Warm and welcoming. Delectable fun!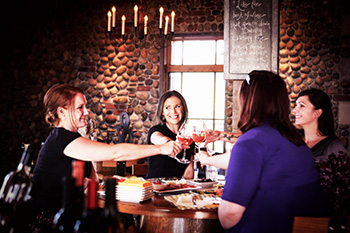 Beautiful setting. Elegant wines. Warm hospitality. Owners Jen and Ross Allen invite you to experience 2Hawk Vineyard & Winery, where you will enter as a welcome guest and leave as a friend. Come savor our exquisite wines in our rustic tasting room, and you'll soon understand why we've earned Editor's Choice status and scores over 90 points from Wine Enthusiast and have been voted one of the best wineries in the Rogue Valley for the last three years!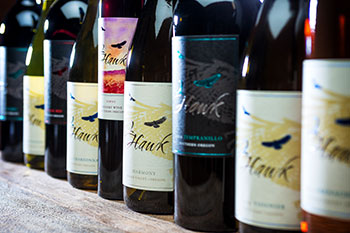 We have collected a wide range of helpful resources for our friends in the press and media, including 2Hawk Vineyard and Winery logos, wine tech sheets, fast facts, a list of varietals, a gallery of high-resolution images, contact info, and a variety of relevant links across our website.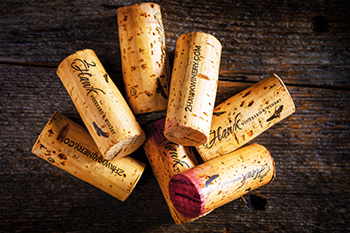 Southern Oregon is creating a buzz internationally for the quality of its wines and the hospitality of its tasting rooms. Our region was named one of the top 10 wine destinations in the world by Wine Enthusiast in 2016 and a top wine region to visit by Forbes in 2017. Couple this with the area's incredible outdoor recreational opportunities, locavore food scene, and cultural attractions, and you've got a winning combination! Read all about it here.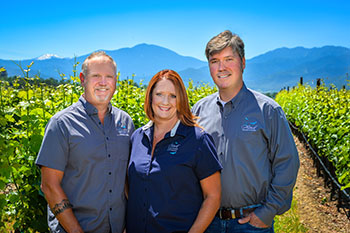 Are you dynamic, experienced, and passionate about wine? Then consider joining 2Hawk's trailblazing team of hard-working, fun-loving oenophiles!
Wine is sunlight held together by water.
Galileo Galilei