With competitions around every corner, 2Hawk focuses its award submissions on those with great national renown and a Pacific Northwest emphasis. Our guests agree with the judge's choices and appreciate 2Hawk's beautiful, relaxing setting for enjoying these wines with family and friends. 2Hawk was voted favorite winery in the Rogue Valley in 2018.
All the Buzz
With a constantly expanding array of medals from prestigious competitions, 2Hawk's world-class wines have earned international recognition. Notable accolades include multiple Editor's Choice awards and 90+ scores from Wine Enthusiast; Gold in the Drink Pink International Rosé Competition two years in a row for Grenache Rosé; and a Panel Pick in the Sip Northwest Best of the Northwest for Sauvignon Blanc.
Other medals have been received by: San Francisco International Wine Competition, Oregon Wine Experience, SavorNW Wine Awards, Sunset International Wine Competition, Cascadia Wine Competition, Newport Seafood & Wine Festival, Toast of the Coast, Portland Seafood & Wine Festival, and Oregon Wine Awards.
For a complete list of accolades, see our individual Tech Sheets.
Reviews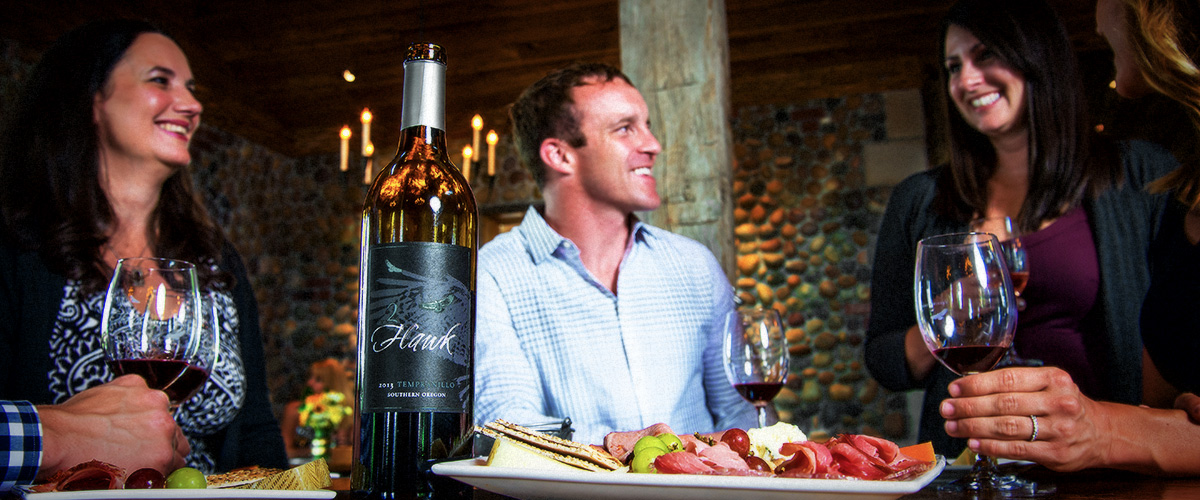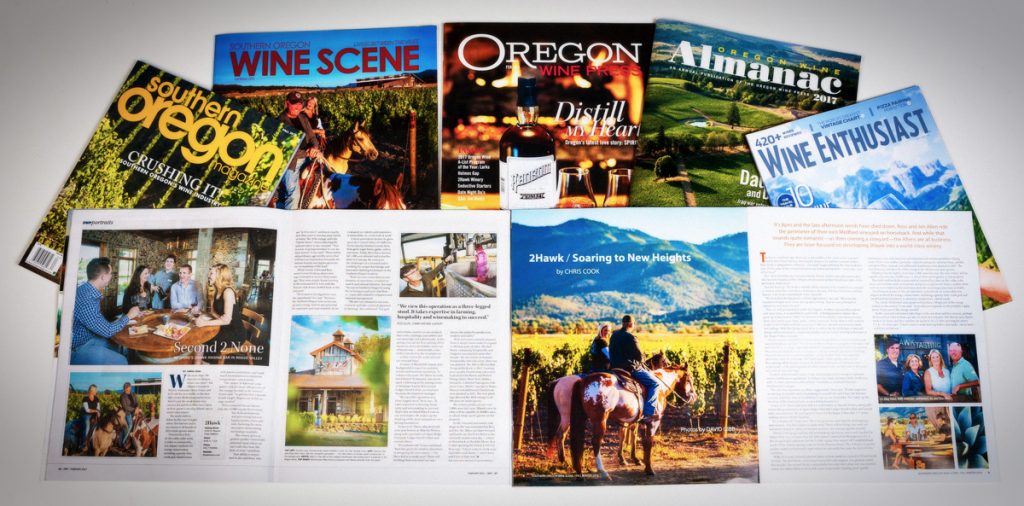 Southern Oregon is creating a buzz internationally for the quality of its wines and the hospitality of its tasting rooms. Our region was named one of the top 10 wine destinations in the world by Wine Enthusiast in 2016 and a top wine region to visit by Forbes in 2017. Couple this with the area's incredible outdoor recreational opportunities, locavore food scene, and cultural attractions, and you've got a winning combination! Read all about it here.
In the News
2Hawk Vineyard & Winery Raises Funds for Almeda Fire Victims with a Special 9-1-1 c.2 Wine Release, Wine Industry Network Advisor, October 5, 2020
Will Viognier Become Southern Oregon's Signature White Wine, Forbes, August 1, 2020
2Hawk: A Journey of Texture and Balance in the Rogue Valley, The Vintner Project, July 14, 2020
An Oregon White Wine with Style, Value, and Very Little Fanfare, Wine Enthusiast, May 6, 2020
Exploring the Wines of the Rogue Valley, Forbes, July 14, 2019
Grape to Glass: 2Hawk Vineyard & Winery, Oregon Wine Experience, March 1, 2019

When 2 Hawks Arrived: 2Hawk Vineyard & Winery Exposed Its Depth and Breadth, Wine Blog, July 25, 2018
Helping the Helpers, Sip Northwest, Summer 2018
2Hawk Supports First Responders, Southern Oregon Wine Scene, March 23, 2018
Northwest Wine: Southern Oregon a Wine Region Not to Be Overlooked, Tri-City Herald, May 22, 2018
Supporting First Responders, Southern Oregon Magazine, October 23, 2017
2Hawk Opens Tesla Charging Stations, NBC KOBI-TV 5 Medford, May 26, 2017
First Tesla Chargers in Medford Arrive at 2Hawk Vineyard and Winery, KOBI News at 10, May 26, 2017
Juicing up at 2Hawk Vineyard and Winery, Medford Mail Tribune, May 26, 2017
2Hawk Winery, Sip & Stay, April 1, 2017
Assembly Required: Wine Symposium Key to Industry's Advancement, Oregon Wine Press, April 1, 2017
Second to None: Medford's 2Hawk Raising Bar in Rogue Valley, Oregon Wine Press, February 1, 2017
The Top 12 Underrated Wine Regions to Visit in 2017: A Month-by-Month Guide, Forbes, January 13, 2017
2Hawk: Soaring to New Heights (page 8), Southern Oregon Wine Scene, Fall/Winter 2016
2Hawk Ready to Fly with Winery Changes, Medford Mail Tribune, April 28, 2016
Spring Happenings in Southern Oregon Wine Country, Medford Mail Tribune, April 27, 2016
Oregon Is Latest Destination to See Its Vineyards As Tourist Draw, Skift, February 7, 2016
Wine Enthusiast Top 10 Wine Travel Destination for 2016, Wine Enthusiast, January 7, 2016
2Hawks Sold – There Are New Owners, a New Name, and a New Philosophy at Medford Winery, Oregon Wine Press, November 1, 2014
Your Guide to Wine in Southern Oregon, Southern Oregon Winery Association
I regard those as wise who employ old wine freely and study old stories.
Plautus (Titus Maccius Plautus)