2Hawk Tasting Room
Do I need to make a reservation to visit the tasting room?
Reservations are accepted but not required for parties of 6 or fewer; they are, however, required for parties of 7 or more. To reserve your place, please contact the tasting room at 541.779.WINE (9463). We strive to provide everyone with an excellent experience. Requests for table reservations are not accepted via email.
Are minors allowed?
Children are welcome in the tasting room, grounds, and patio. In compliance with state law, our tasting bar is only for guests over the age of 21. Guests under 21 cannot drink alcohol, even with a parent's consent. While children are welcome to visit with parents, for the enjoyment of all our guests, we respectfully ask that you keep them with you at all times. Our setting is intended to be a peaceful place for adults so we ask that there be no running, climbing, throwing, or shouting.
Are dogs allowed?
We have two tables at the front of our building where pets are permitted. These tables are first-come, first served. Pets must be under Owner supervision at all times, and Owners are responsible for cleaning up after their pets.
Is there a tasting fee?
Yes. We offer five flight structures: Exploratory Flight (a mix of white wines and red wines); Flight of Whites; Flight of Reds; our Darow Series Flight featuring reserve-level wines; and a Wine & Chocolate flight that decadently pairs locally made artisan chocolates with four of our wines. The tasting fee is reversed if you purchase two bottles of wine.
Are group tastings and tours available?
Yes. For groups of 8 or more, please call 541.779.WINE (9463) or email us ahead of time to make arrangements so we can be sure we have the available seating and staffing to provide everyone with an excellent experience.
Can we hold a meeting at 2Hawk?
Being in the business of wine, we respectfully ask that our seats and servers are only occupied by groups that will be purchasing wine.
How do I make a donation request?
We accept donation requests during the month of January each year. Please send donation requests to info@2hawk.wine. Be as specific as possible with the nature of your request, including the date you need the donation. We will review all requests and reply by March 1.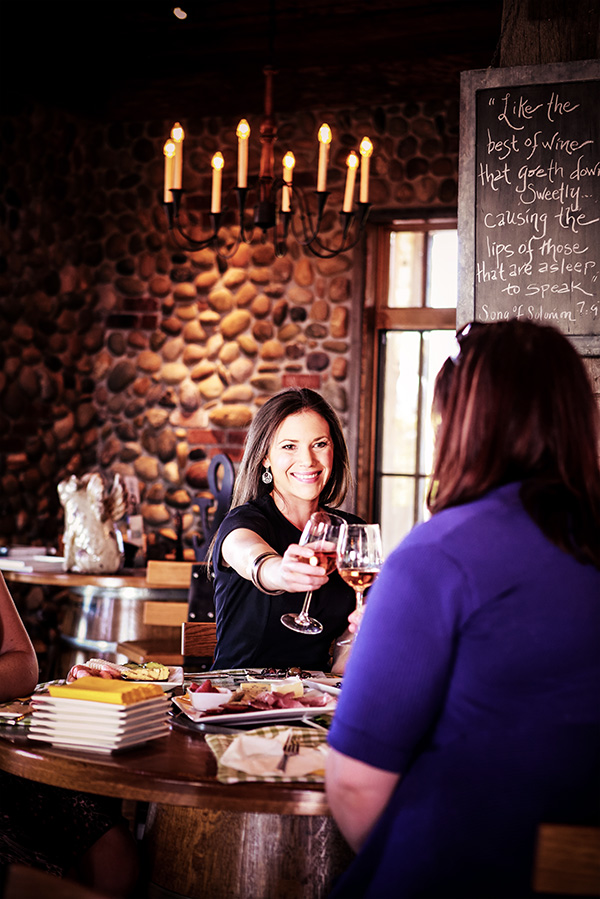 Is your facility wheelchair-accessible?
Yes, our facility is wheelchair-accessible.
What are your hours?
We are open daily from 1 to 7 pm.
What days are you closed?
We are closed on Thanksgiving Day and December 24 through January 1. Please see our Happenings page for information on additional closures pertaining to other holidays or private events.
Do you have a mailing list?
Yes. Sign up today.
Can we picnic at the winery?
We do not allow outside food or drink at 2Hawk, but we have a great list of our own wine accompaniments to choose from.
Can I host a wedding or private event at 2Hawk?
While we don't typically do weddings, we do host private events from November to April. Smaller events can often be accommodated other times during the year. Contact us to schedule and discuss details.
Can I use the 2Hawk property for photo shoots?
We do not allow photo shoots on the property.
Please email us at info@2hawk.wine or call the tasting room at 541.779.WINE (9463) if you have additional questions.
In wine, there's truth.
Pliny the Elder