by Jen Allen, Owner
2Hawk Vineyard & Winery recently had the honor of hosting four wine writers on a tour of Oregon wineries in Portland, Willamette Valley, and Southern Oregon. Arranged by the Oregon Wine Board (OWB), the tour concluded on August 1 with a dinner hosted by 2Hawk. We were joined by our talented colleagues and friends Ruth Garvin, Cliff Creek Cellars; Earl and Hilda Jones, Abacela; and Dyson Demara, Hillcrest Vineyard.
After six days of touring and tasting, the writers arrived at our beautiful tasting room, where they sampled some of our favorite wines. We even brought out some of our already–sold-out 2016 Grenache Rosé, the Double Gold winner at the San Francisco International Wine Competition. (We had stashed a couple of bottles away for occasions just like this!) Our refreshing 2016 Sauvignon Blanc was also a big hit on this warm night. Kiley Evans, our winemaker, and Ross and I were on hand to chat with the writers and share our wines.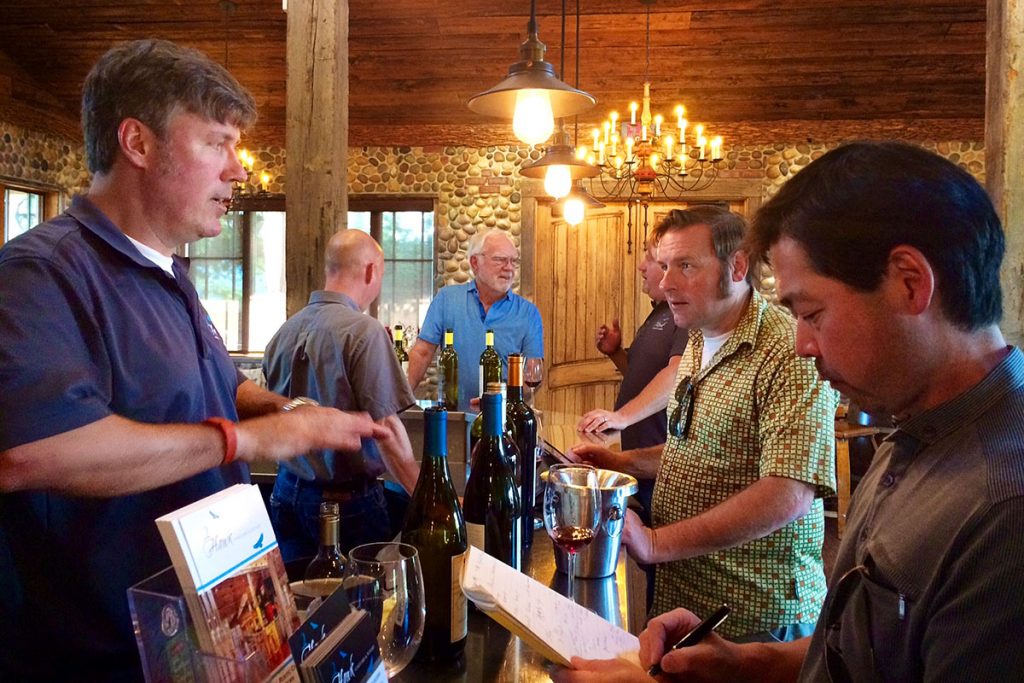 The writers took time to speak with representatives from each of the four wineries, taste the wines, and discuss story angles. We can't wait to see what they write! Hats off to Sally Murdoch, OWB's new communications manager, who shepherded these journalists from Portland to Ashland with a stop in the middle at the International Pinot Noir Celebration in McMinnville.
When dinner was served, we all got to see what a good wine can do when paired with exquisite food. Chef Bill Prahl outdid himself with a family-style meal featuring local foods, including Umpqua Valley lamb (sumptuous with our 2014 Limited Reserve Tempranillo) along with delectable appetizers, salads, and sides. For dessert, we savored a blackberry and thyme crisp as well as an organic Oregon hazelnut gelato fig tart with mascarpone cream. And then Earl pulled out the port!
We were delighted to share the bounty of Southern Oregon with these writers and the Portland-based OWB communications manager. Getting the word out about the quality of Southern Oregon wines is important to 2Hawk and the entire region. We have much to be proud of, and we are eager to share with the world!
Rounding out the night, we went around the table, each of us giving our thoughts on the wines. Chris said we were over-delivering for the money, adding that we are the new pioneers and following in the footsteps of Willamette Valley trailblazers. Julie said Southern Oregon is a region where people are producing quality wines with potential to stand on their own. She used the word "unsnobbery." Love it! Yes, we are unsnobs 🙂
We invite you to visit and taste for yourselves.
About the Writers
Based in the Seattle area, Julie Arnan is a freelance writer specializing in food, wine, and travel writing. An ongoing contributor to 425 Magazine, Arnan writes a monthly food and dining column, frequent tasting notes blog, weekly food newsletters, and periodic travel pieces. Her work also appears in Seattle Magazine, Edible Seattle, Washington State Wine, and the Bellevue Club's Reflections Magazine.
David Furer is a Certified Wine Educator—the highest level of the USA's Society of Wine Educators. He has passed the rigorous advanced exams of the Court of Master Sommeliers, which requires extensive knowledge and practical application of wines, spirits, foods, beers, and cigars. In 2004, he became one of the first Certified Sherry Educators and has since passed the Wine Location Specialist exam. Furer has worked in management, training, and consultancy for restaurants, bars, and retail shops in London, Chicago, Vienna, and Austin. He currently resides in New York's Hudson Valley and contributes to Wine Business Monthly, France's Sommeliers International, and the San Francisco Wine School's blog with his "Insider Interview" series.
Yoshiji Sato is the chief wine editor for Shuhan News, the largest Japanese journal of sake, wine, and spirits. He also writes market reports and travels around the world participating in wine conferences, judging panels, and educational endeavors. He is currently conducting research on the relationship between soil types and wines. Sato is the organizer of the Pinot Noir Celebration Japan, a biyearly event comprising a gala dinner, seminars, and tastings of more than 100 Pinot noirs from around the world.
Christopher Sawyer is an internationally renowned sommelier, wine journalist, wine judge, consultant, and public speaker. Voted Best Sommelier of Sonoma County by Bohemian Magazine for the fourth consecutive year, Sawyer is the recipient of numerous prestigious awards and industry honors.