Visit the 2Hawk Tasting Room
Voted one of the best places to visit in the Rogue Valley
The tasting room at 2Hawk is more than just a striking and beautiful space. It hearkens back to a time when life was simpler and the pace much slower. The rustic elegance of our Oregon mountain lodge-inspired décor features extensive use of reclaimed materials from floor to ceiling, including cobbled river rocks sourced from the estate vineyard incorporated into the interior walls. Wine barrels repurposed as tables and chairs and an antique riddling rack chandelier provide the perfect setting for indulging in our luxurious wines. You'll discover why we say, "Oregon is much more than just Pinot noir" when you sample critically acclaimed Malbec, Tempranillo, Grenache, Pinot noir, Viognier, Sauvignon blanc, and Chardonnay accompanied with our chef's locally sourced and delectable food pairings. Outside, our grounds feature stunning views; a large covered patio; grassy areas and seating; bocce ball; and firepits.
2Hawk's tasting room sits amid the vineyards on the site of the original farmhouse dating back to the 1950s. Before becoming a vineyard and winery, the property was home to a pig farm, horse training grounds, and pasture for cattle.
Inspired by the feel of the Old Californian style of structures built in the 1920s and 1930s, the Allens set out to create a tasting room with that influence in mind, aspiring to capture the same character, feel, and aesthetics found in those architectural gems.
With great attention given to each custom detail throughout, 2Hawk's tasting room pays tribute to the grand agricultural buildings of yesteryear, exuding rustic charm.
Owners Jen and Ross Allen invite you to savor handcrafted, award-winning wines and chef-inspired pairings in their exceptional tasting room—voted one of the best places to visit in the Rogue Valley.
The architecture of the 2Hawk Vineyard & Winery tasting room is historically rooted in late nineteenth century Western US ranch and farm home vernacular. With deep columned porches, a clerestoried main room, and reclaimed architectural millwork, the tasting room pays homage to the architecture of this rich building tradition and befits this part of the history of southwestern Oregon.
Without being imitative, the tasting room moves this building tradition forward in a contemporary manner that delights our guests. Warm, inviting, and aesthetically refined, the tasting room is the perfect place to enjoy our exceptional wines and share the beauty of our place with friends and family.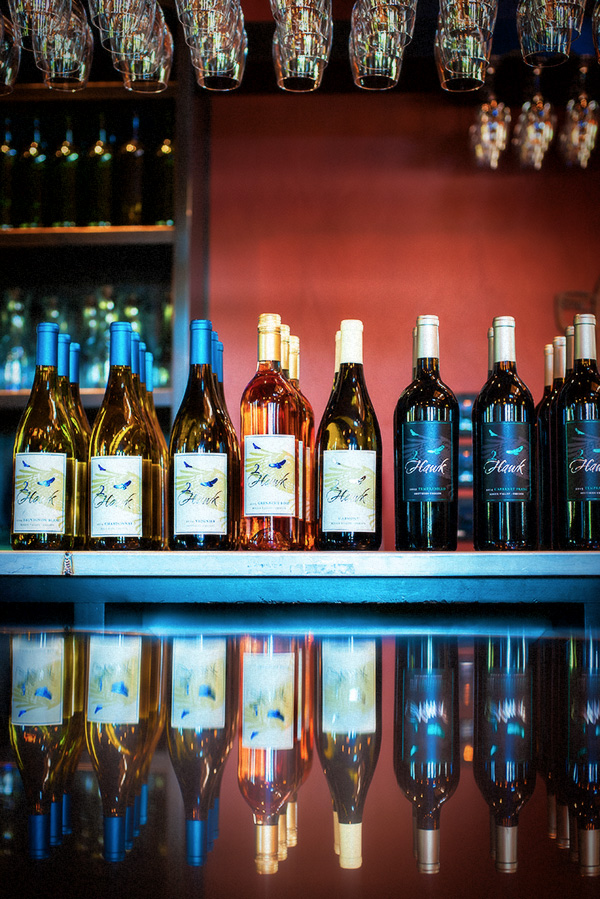 We invite you to visit and make your own memories! Enjoy a tasting flight at our opulent bar or savor a bottle of wine outside while you take in the awe-inspiring views of the Rogue Valley, play bocce ball, or laugh with friends by the firepit. We also offer a variety of scrumptious appetizers and small plates to accompany our succulent wines.
At 2Hawk, we always aim to present you, our valued patrons, with wonderful wines to delight your senses as well warm, gracious, and knowledgeable staff.
Visit Our Tesla Charging Stations While You Taste
In June 2017, 2Hawk installed three Tesla charging stations, making them the first business in Medford and first winery in southern Oregon to offer guests the ability to charge up while enjoying their beautiful setting and a glass of wine.
The juice of the grape is the liquid quintessence of concentrated sunbeams.
Thomas Love Peacock