by Chris Russell, Contributor
2019 is drawing to a close, and it has been a remarkable year for 2Hawk Vineyard & Winery! Looking back over the past twelve months, we have a lot to celebrate, from noteworthy accolades to entertaining events. Before we turn our attention to making the next year even better, we'd like to share some of our favorite moments from 2019.
January
2Hawk got 2019 off to a stellar start in January with the San Francisco Chronicle Wine Competition. All five wines we entered earned a medal, with our 2017 Grenache Rosé, 2016 Malbec, 2016 Darow Series Viognier, and 2017 Viognier all taking Silver and 2017 Grenache earning Bronze.
February
In the vineyard, February marked the start of pruning. As part of our commitment to sustainable viticulture, we allow pruned canes to dry out on the vineyard floor, later to be chopped into mulch and tilled into the vineyard's soil.
March
March was a busy month, beginning with the Oregon Wine Experience featuring 2Hawk in Grape to Glass with Trish Glose, which provided an exciting look at our commitment to both stunning wine and charity fundraising. Meanwhile, the winery bustled with activity as we bottled a whopping 1,617 cases of wine!
April
In April, we had a lot of fun hosting Oregon Wine University's The Art of Barrel Tasting class, which allowed guests to explore the nuances of wine sampled directly from the barrel. 2Hawk Winemaker Kiley Evans was joined by Irvine & Roberts Winemaker Vince Vidrine as they shared insights into the influences each barrel imparts to wine as it ages and evolves. In the vineyard, the end of April ushered in bud break, the first emergence of delicate new growth from the dormant vines.
May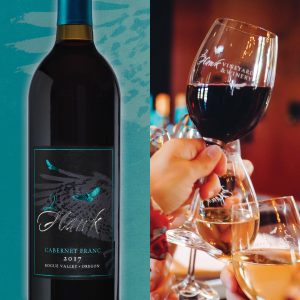 May was a big month for us at 2Hawk, with the biggest event being our semiannual wine club release. Five fantastic wines—our 2017 Cabernet Franc, 2017 Darow Series Pinot Noir, 2018 Grenache Rosé, 2018 Sauvignon Blanc, and 2017 Darow Series Viognier all made their debuts. May also saw the first of our two Behind the Wine vineyard tours, which enabled guests to join us for a fun afternoon of touring, tasting, sampling, and learning all about the magic behind the production of 2Hawk's wines. Additionally, three of our estate-grown wines—the 2017 Darow Series Chardonnay, 2017 Darow Series Pinot Noir, and classic 2017 Pinot Noir received favorable reviews from noted critic James Suckling, with the Chardonnay earning 90 points.
June
In the vineyard, June welcomes the beginning of fruit set, when the vines bloom and first start to develop fruit, which will eventually become the 2019 harvest. Meanwhile, 2Hawk claimed five medals at the 2019 Sunset International Wine Competition, including a Gold medal and impressive 92-point score for our classic 2016 Tempranillo.
June also saw one of the most exciting events of the year when Owner Ross Allen and Winemaker Kiley Evans attended the by-invitation-only Telluride Wine Festival, which brought 2Hawk's award-winning wines to an entirely new audience in picturesque Telluride, Colorado. Attending multiple events and meeting hundreds of attendees throughout the four-day festival made this a thrilling time for all!
July
July saw an impressive 1,708 cases of wine bottled, including our 2017 Darow Series Malbec, 2017 Tempranillo, 2018 Grenache, and Plume Rouge v.2, our new red blend. Meanwhile, in the vineyard, fruit thinning helped shape the 2019 crop.
This month was marked by another memorable experience for 2Hawk: the Cork & Barrel Wine Event in Bend, Oregon. A grand celebration of some of the best food and wine Southern Oregon has to offer, this event enabled Ross and Kiley to meet up with some of 2Hawk's more distant wine club members as well as introducing 2Hawk's offerings to wine aficionados from all over Oregon.
August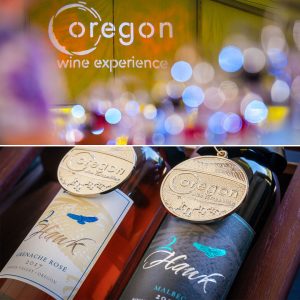 In August, we were honored to host one of the Oregon Wine Experience's Ultimate Vintner Dinners, a decadent evening of wine and food, with all proceeds going to Asante's Children's Miracle Network.
Providing a rare opportunity for 2Hawk connoisseurs to sample our offerings while chatting directly with the winemaker, 2Hawk Winemaker Kiley Evans hosted a special private wine-tasting event featuring our Darow Series wines custom-paired with delectables prepared by gifted 2Hawk Culinary Manager Amy Campbell.
Finally, August saw 2Hawk earn special recognition from Wine Enthusiast Magazine for our 2017 Grenache and 2016 Darow Series Malbec, each of which garnered a 92-point score. Our 2017 Grenache also earned a special Editor's Choice distinction.
September
September's main event was the beginning of the 2019 harvest, which always brings a flurry of activity to the vineyard and winery. This year's harvest extended all the way to early November, allowing some of our fruit the hang time required to reach luxurious ripeness.
September was also the first month for our talented new tasting room manager, Sean Marc Nipper. He manages the day-to-day operations of the tasting room, ensuring all our guests have an informative and pleasantly memorable experience at 2Hawk.
October
As the harvest continued, October proved another month of accolades for 2Hawk. At Wine Enthusiast Magazine, 2Hawk's 2018 Sauvignon Blanc earned a score of 91 points and an Editor's Choice distinction. Soon after, 2Hawk claimed four Gold medals at the 2019 Great Northwest Invitational Wine Competition. Our 2016 Tempranillo, 2017 Grenache, 2016 Darow Series Malbec, and 2017 Viognier all earned Gold medals, with our 2016 Tempranillo also being named Best of Class.
November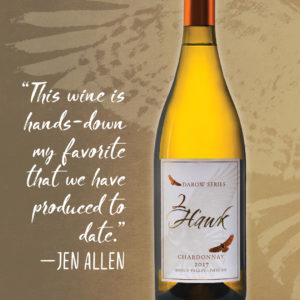 November heralded the end of the harvest at 2Hawk, with some of our Malbec being the very last off the vine, but the main event was our fall wine club release and party. We were proud to debut four world-class wines: our 2016 Darow Series Tempranillo, Plume Rouge v.2, 2018 Viognier, and our 2017 Darow Series Chardonnay—a personal favorite of 2Hawk Co-Owner Jen Allen's. On November 10, the tasting room was closed to allow our wine club members exclusive access to join us in celebrating our sumptuous new releases.
December
Finally, December saw the return of our Culinary Series with the talented Chef Tim Keller kicking off the new season. This event series will continue in February 2020 and beyond, showcasing talented chefs preparing and pairing fabulous meals with 2Hawk wines. This month, we also learned 2Hawk claimed five medals in the 2019 Harvest Challenge wine competition: our 2017 Malbec took Gold and 2017 Darow Series Viognier claimed both a Gold medal and the Best of Rogue Valley AVA title, with our 2017 Darow Series Chardonnay, 2018 Grenache Rosé, and 2016 Darow Series Tempranillo each taking Silver.
Learn More
2019 has been an outstanding year for 2Hawk, and we're looking forward to making 2020 even better! We'd be honored if you followed along with us as we continue our ongoing quest to put the very best wines in the bottle. If you're not already subscribed to our newsletter, it's a great way to keep up with the latest happenings at 2Hawk. Do you have any questions about our wines, our vineyard, or the winemaking process in general? If so, we'd love to hear from you! Please comment below, or reach out to us directly via our Contact page.
Meanwhile, if you'd like to learn more about Rogue Valley wines, here are a few ways:
Check out last month's post, 2Hawk Vineyard & Winery's Fall 2019 Harvest Wrap–Up, to learn all about the results of the 2019 harvest.
Visit the tasting room to sample our current wines.