by Chris Russell, Contributor
Fall in the vineyard brings the bustling activity of the harvest as the growing season draws to an end. At 2Hawk, fall is special for an additional reason: our semiannual wine club release. In May and November of each year, we give members of the 2Hawk Wine Club exclusive first access to our most distinguished new wines. This November, we're thrilled to be releasing four world-class wines that showcase our ongoing pursuit of excellence.
2Hawk Fall 2019 Releases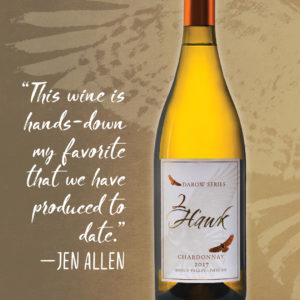 At 2Hawk, when a wine achieves extraordinary character, we use the designation "Darow Series" in homage to our vineyard's most prevalent soil type. Our 2017 Darow Series Chardonnay is one such wine, thanks in part to 2017's exceptional Chardonnay harvest. Careful aging in French oak barrels and laborious batonnage—stirring of the yeast lees—yielded a wine deserving of special distinction. Elegantly balancing fleshy ripeness with a lifted finish, white peach and quince aromas meet with lime rind and toasted marshmallow on the palate. A personal favorite of 2Hawk Co-Owner Jen Allen, this wine is ready to enjoy now but has cellaring potential for the next one to four years.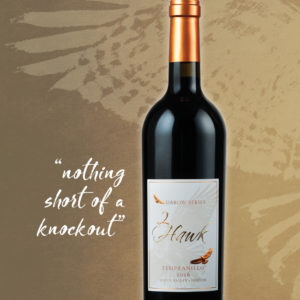 A wine years in the making, our 2016 Darow Series Tempranillo is finally ready to make its debut. Nothing short of a knockout, this wine has also earned our special "Darow Series" designation. The nose leads with powerful aromas of blackberry, plum, fig, tobacco leaf, and graphite. Not to be outdone, the palate is packed with flavors of black cherry and dark berry with hints of cocoa, coffee, and baking spices. The rich and mouth-filling texture gives this wine excellent cellaring potential. Enjoy now or cellar for an additional four to five years to round the tannins into an even more effortless finish.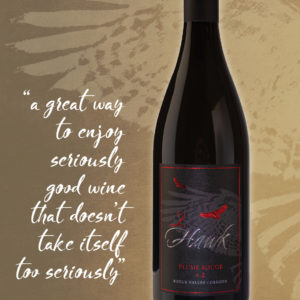 Plume Rouge v.2
A blend of Tempranillo, Cabernet Franc, Merlot, Syrah, and Cabernet Sauvignon, this wine balances natural spice against black and blue fruit with delicate peppery, floral notes.
Our Plume Rouge v.2 benefits from the similarity of the Rogue Valley's climate to that of north-central Spain while retaining the qualities that make Rogue Valley wines so special. A blend of Tempranillo, Cabernet Franc, Merlot, Syrah, and Cabernet Sauvignon, this wine balances natural spice against black and blue fruit with delicate peppery, floral notes. The result is a delightful wine that pairs equally well with simple fare and gourmet cuisine. Enjoy (or share) now or cellar for up to eight years.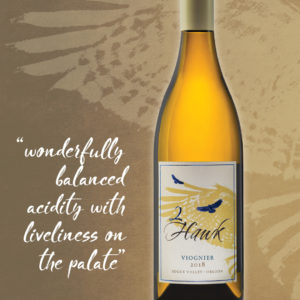 2018 Viognier
As we mentioned in last month's post, our 2018 Viognier is a testament to our Rogue Valley vineyard's perfect climate for Viognier. Fruit of outstanding quality and ripeness has led to a wine that captures complex fruit aromas, including pineapple, peach, apricot, and orange blossom. This wine possesses balanced acidity and noticeable liveliness on the palate.
Save the Date
Members of our wine club are invited to an exclusive, members-only release party on Sunday, November 10, from 1:00 to 5:00 pm. This is a great way to enjoy our new releases along with fantastic food and excellent company. If you're not yet a member of our wine club, don't miss out! Join the 2Hawk Wine Club today to gain special access to our exciting new releases and exclusive members-only events. Remember to RSVP by November 1 if you haven't already done so! Just call the tasting room at 541.779.WINE or email info@2hawk.wine to RSVP.
Learn More
We hope you're looking forward to our new releases as much as we are. These four wines are some of our best yet, and we can't wait to see them savored. These are just a hint of what's to come in 2020 and beyond! If you'd like to keep abreast of the news at 2Hawk, sign up for our newsletter to receive regular updates on the latest developments. Do you have any questions about our vineyard, our wines, or the winemaking process? If so, please comment below, or reach out to us directly via our Contact page. We'd love to hear from you!
Meanwhile, if you'd like to learn more about Rogue Valley wines, here are a few ways:
Some of our 2018 wines are ready to enjoy, while some are still on their way. Get the lowdown in last month's post, 2Hawk's 2018 Vintage: The Latest.
Visit the tasting room to sample our current wines.