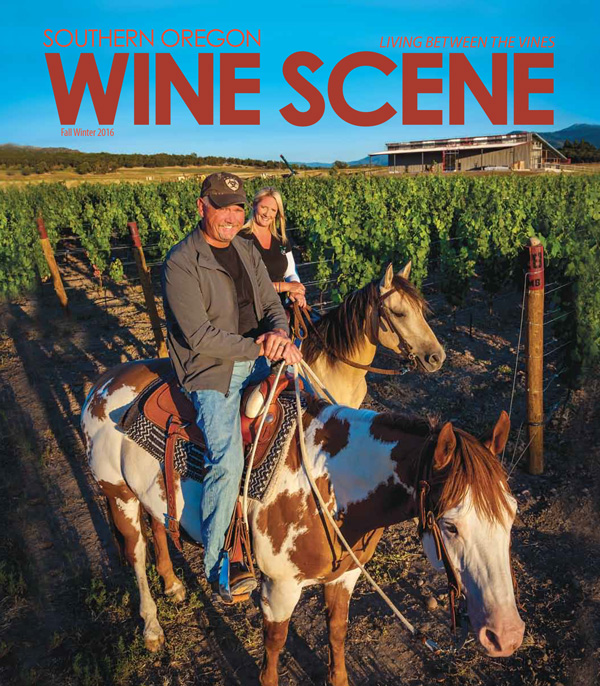 We are excited to be getting such great press lately! Take a look at this feature story in the Fall/Winter 2016–2017 edition of the Southern Oregon Wine Scene. Ross and I love the picture of us on our horses. This was taken before the new winery was completed. Done in record time, the new winery opened in September, just in time to process its first harvest. Can't wait to see what Kiley does with the wines!
—Jen Allen, Owner
by Chris Cook
It's 8 pm and the late afternoon winds have died down. Ross and Jen Allen ride the perimeter of their east Medford vineyard on horseback. And while that sounds quite romantic—as does owning a vineyard—the Allens are all business. They are laser-focused on developing 2Hawk into a world-class winery.
The fact is, just hours ago, Ross was in the middle of the vines on his vineyard model John Deere tractor, checking the progress he and his vineyard workers have made in preparation of harvest. "I'm really happy with how the vines look this year. It's because of the constant attention we've been giving them—every day—and all by hand."
This, their third harvest since purchasing 2Hawk, will be especially meaningful. This harvest's bounty will be 100 percent processed in their brand new, state-of-the-art winery, built onsite.
But let's back up. The truth is that the Allens weren't in the market for a vineyard or winery when they were house hunting in the area. But they fell in love with the Tuscan-style home nestled back in the vineyard.
This article was excerpted with the author's permission from the Fall/Winter 2016–2017 issue of Southern Oregon Wine Scene. Click here to read the full article.
We knew the Southern Oregon wine scene was up-and-coming, and we saw potential for expansion and improvement. As we evaluated our talents and experience, it seemed like we could make it work.
Jen Allen