All the Buzz
With competitions around every corner, 2Hawk focuses its award submissions on those with great national renown and a Pacific Northwest emphasis. Our guests agree with the judge's choices and appreciate 2Hawk's beautiful, relaxing setting for enjoying these wines with family and friends. 2Hawk was voted favorite winery in the Rogue Valley in 2018.
Awards
With a constantly expanding array of medals from prestigious competitions, 2Hawk's world-class wines have earned international recognition. Notable accolades include multiple Editor's Choice awards and 90+ scores from Wine Enthusiast; Gold in the Drink Pink International Rosé Competition two years in a row for Grenache Rosé; and a Panel Pick in the Sip Northwest Best of the Northwest for Sauvignon Blanc.
Other medals have been awarded by the San Francisco International Wine Competition, Oregon Wine Experience, SavorNW Wine Awards, Sunset International Wine Competition, Cascadia Wine Competition, Newport Seafood & Wine Festival, Toast of the Coast, Portland Seafood & Wine Festival, and Oregon Wine Awards.
For a complete list of awards and accolades, see our individual Tech Sheets.
Reviews
Raves
I can speak from experience now—that Grenache Rosé is amazing. The world would be worse for its absence.
Chris R., Phoenix, AZ
I stumbled upon this place on a sunny afternoon and I was not disappointed. The views are amazing and the wine equally as amazing, I had the Red Flight. I absolutely loved the look of the inside, very rustic and modern. I overheard one of the staff members saying it was all made from recycled wood or something of the sort. Speaking of staff, they were great! But let's talk about the food, the chef is sooooo good! The ingredients were super fresh and just melted in my mouth! This place is a must-see and I will return.
Cici P., Hillsboro, OR
What a stunning beautiful winery inside and out. The service was good and I really enjoyed their Sauvignon Blanc. Good food menu with small and delicious pizzas! What a sweet place to enjoy a glass of wine and a snack.
Georgie K., Medford, OR
We had very personable and excellent service. The wines were some of my favorites on our winery tour. The highlight of our stop at 2Hawk was meeting the winemaker himself. He took the time to stop and talk with us and even took photos with us. He was very humble, but also very proud of his wines—as he should be! The wines and staff at 2Hawk are excellent—I highly recommend.
Samantha T., Redding, CA
At the last minute, a citizen of Ashland recommended this winery on my recent wine-tasting tour. I did not have this one on my radar but figured "Why not?" I am so glad I did. The staff was amazing. It was very clear they knew their stuff and had a passion for wine. This was probably the most enjoyable 90-minute wine tasting I attended during my stay in Ashland, Oregon. If you're staying in Ashland, this winery is about 15 minutes North on I-5 but it's a travel well-taken. Enjoy.
Doug S., Los Angeles, CA
Awesome experience! Great service, great food, beautiful scenery, and even better wine! I definitely recommend it!
Lauren S., Princeton, WV
We love this winery! The beautifully designed tasting room—rustic and very comfortable—includes an outdoor seating area with gorgeous views of the nearby mountains. The staff was extremely knowledgeable as we experienced each glass of wine in our flight. Although it was difficult to decide on a favorite, my husband really enjoyed the Tempranillo, and I fell in love with the Chardonnay. It was the first time at a tasting room that we found all the wines we tasted were delicious. I would recommend stopping by for a relaxing afternoon with an excellent glass of wine and a really fun staff!
Nina O., Coalinga, CA
Stopped in after being away for several months and was impressed again! The attention that the new owners have given really shows. The wines have improved and the food was awesome! I will come back much sooner next time. We had a great time.
Tony L., Petaluma, CA
2Hawk is one of the youngest wineries in the Rogue Valley. When you first walk into 2Hawk's lodge-style tasting room, you expect to find Hemingway sitting at one of their unique barrel tables. The staff is knowledgeable about the wines they serve. If you are unfamiliar with wine, they guide you through a tasting that will bring about your appreciation. A must-visit every weekend for amazing cheesecake and outstanding wine.
Jason J., Phoenix, OR
We moved to Medford in 2015 and immediately set about exploring all the wineries. 2Hawk quickly became our favorite, and we jokingly call it our "Cheers" as we now find ourselves at the counter almost weekly. The wine is outstanding. We love the Rosé—and there seems to be something for every palate.
BUT
it is simply the staff that puts this winery at the very top. They are warm, welcoming, and very knowledgeable about all things wine. Simply, we love 2Hawk!
Jon & Cara F., Medford, OR
We belong to more than one winery in the Valley, and we love coming here. The crew always recognizes us, and it makes us feel welcome. The wine continually surprises us, as it gets more wonderful with each release. The accompaniments are amazing and compliment the wine perfectly. The mountain view is fabulous—summer, fall, winter, spring—it's wonderful to visit, cheer, and enjoy!
Larry & Lonnie C., Medford, OR
Michael and Amy took us under their wings the first day our group of 10+ showed up. We look forward to visiting with them and enjoying the atmosphere every Wednesday. It's been three+ years and going strong. We love 2Hawk.
Dyann S., Wine Wednesday Group, Medford, OR
Best wine, and the service is wonderful! This winery is our favorite. Amy makes the fabulous cheesecake, and Michael makes us feel like family.
Charles & Kathy C., Wine Wednesday Group, Medford, OR
We love Wine Wednesday at 2Hawk! Our group is always welcomed and made to feel special. It's our "Cheers" of Medford! Thank you, staff!
Barbara M., Wine Wednesday Group, Medford, OR
I look forward to my Wednesdays at 2Hawk. Amy, Michael, and Dane always greet us with their friendly personalities! They even know the wine I like and have my glass ready to go. Thank you, 2Hawk.
Carol H., Wine Wednesday Group, Medford, OR
We have been coming here since Jen and Ross bought the winery. To watch this winery change has been a joy. The new wines are the best we have tasted in a long time. Take the time and stop by—you will be glad to have the experience of a staff who can help you find the tastes you prefer. While you are there, try the cheese plates—they are a special treat.
Ed & Jim L., Medford, OR
We come here for Wine Wednesday every week and always feel very welcomed. We always have a fun time.
Claudia M., Wine Wednesday Group, Medford, OR
Really beautiful establishment! Total WOW factor for this region. Wines that I tried were very good.
Rolando B., Medford, OR
Fantastic wine experience! I did the red flight with a 2015 Pinot Noir which was a perfect introduction. The Red Tail V.2, Plume Rouge V.1 and 2015 Malbec were all nicely balanced easy drinking big reds. I also did the 2015 Viognier as an add on which was excellent even to a red enthusiast. The atmosphere was spacious and huge on friendliness. This should definitely be a destination for wine lovers in Southern Oregon.
Betty K., Alameda, CA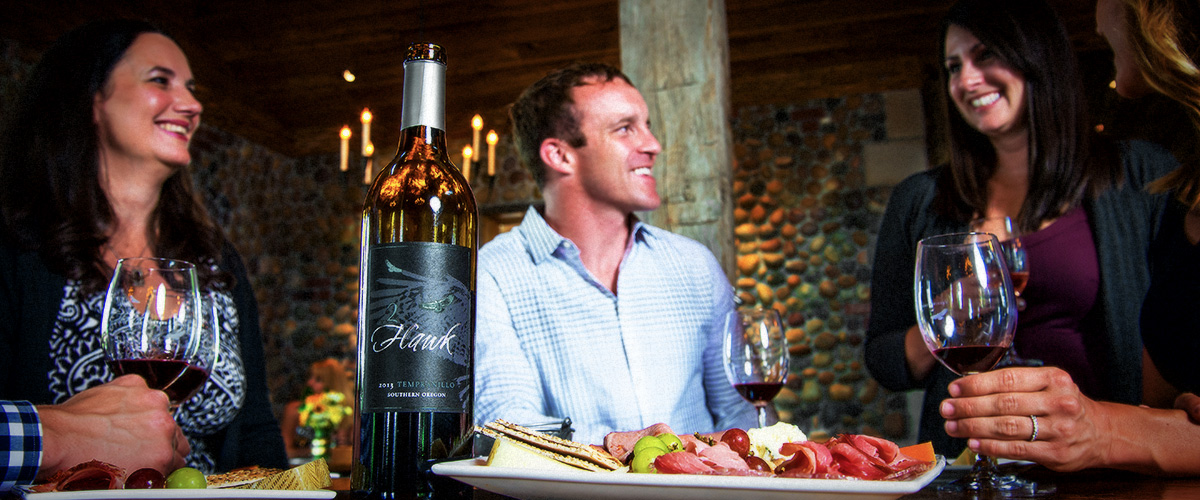 Wine makes daily living easier, less hurried, with fewer tensions and more tolerance.
Benjamin Franklin